- -
Lab Rescue
(
http://www.splashdogs.com/messageboard/phpBB2/showthread.php?t=1800
)
| | |
| --- | --- |
| MickeyD'sMom | 06-18-2009 08:15 AM |
---
Lab Rescue

With the assistance of Georgie, from AAARF, we pulled this boy from the shelter yesterday. We believe he is purebred and about 10 months old. The following is a description that Georgie put up on Petfinder:
Jake's estimated birth date is August 17, 2008. He was a stray from a local shelter that no one claimed. This boy is an Old Soul in a puppy body. What an incredibly calm, sweet boy that accepts any thing you do to him from poking him with needles, bathing him, grooming him and messing with him while he eats. He rides well in a car, does not eat dog beds, pees like a puppy~does not hike his leg, walks well on a leash and walks right in a crate and lies down. He retrieved balls and other toys, even from the bottom of a toddler's wading pool. He's a Lab! Of course he does. The AAARF cats do not seem to mind him and he goes nose to nose with them. If they run off, he will chase, Jake is on a restraint so he can not hurt them. He got up close and too personal with Frankie, a flame point Siamese, Frank liberally boxed Jake's nose. Jake decided he wanted no part of a boxing cat and left.
And now for the quick video:
http://www.youtube.com/watch?v=NDG2wtPr4MM
Jim and I will be fostering him after his surgery tomorrow (neutered) We also plan on bringing him to Tamarack. This guy is a beautiful lab who is very smart and easily trainable. If you would like more pictures or videos please email me at
sandraestewart@yahoo.com
| | |
| --- | --- |
| MickeyD'sMom | 06-27-2009 07:12 PM |
---
Well another happy ending for Jake. He has been adopted to a wonderful family here in Auburn! Gotta love rescues..I fell in love with Jake. Here is a picture of the "new" family!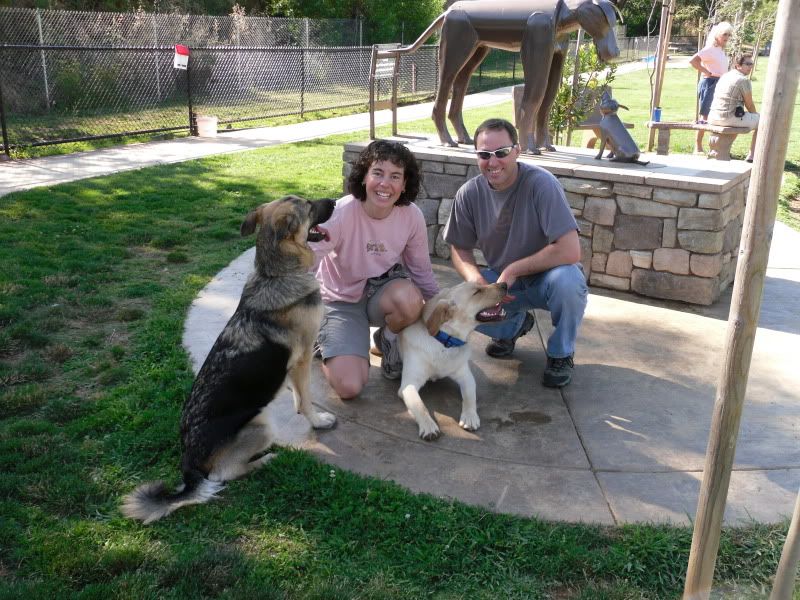 All times are GMT -7. The time now is

07:05 AM

.
Powered by vBulletin® Version 3.6.7
Copyright ©2000 - 2013, Jelsoft Enterprises Ltd.