---
SPLASHDOGS ... a puppy needs your help!!

Hey Everyone!
A few days ago a beauiful pitbul puppy found Tonka & I while we were at the dog park. I noticed he was carring his back left leg up, and when he moved it just dangled. Tonka totally went into 'Mama' mood and adopted him, she was laying with him as if she was protecting him. I could not just leave him, and turn my back on the guy, he was really hurt and just a baby. So, I called a friend of mine and asked for her help with the little guy, since I really had no idea what to do with him ...
If anyone is able to help or just have him in your thoughts & well wishes that would be GREAT!!
Here is a few pictures of the boy ...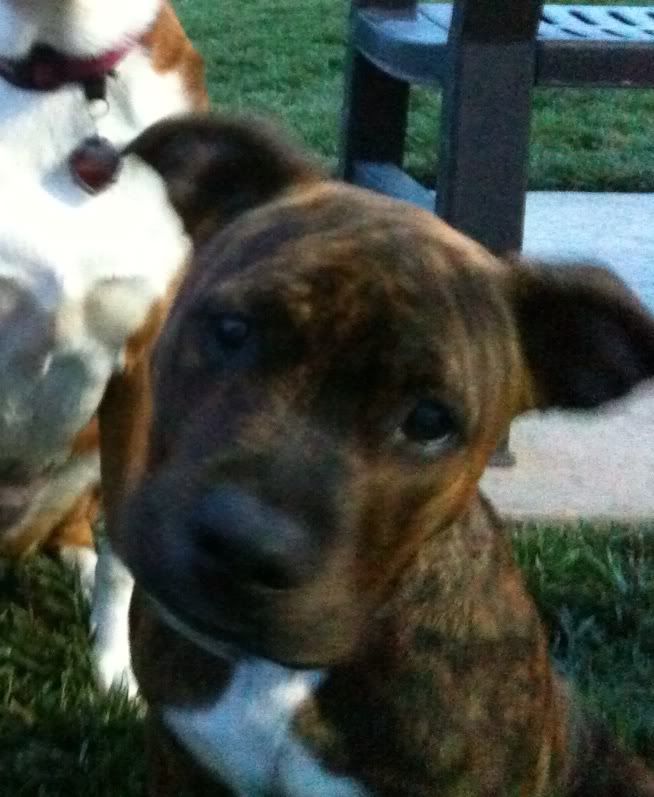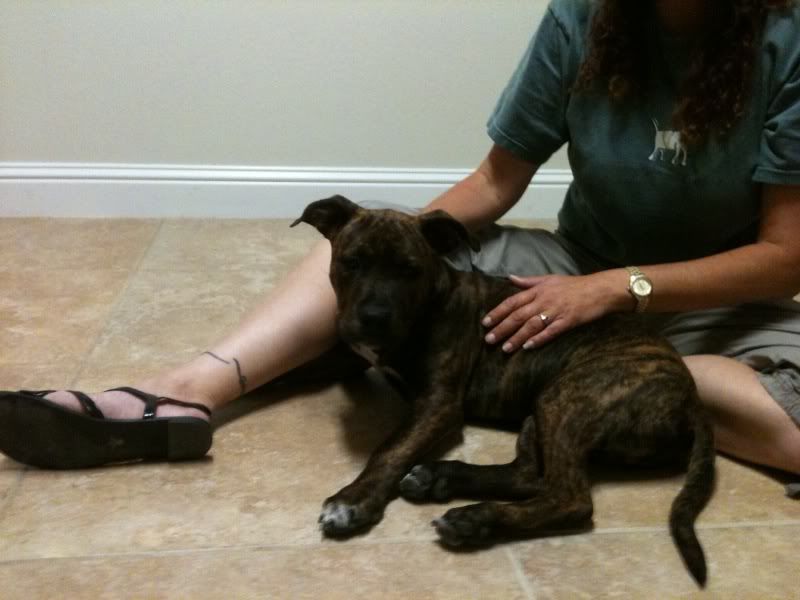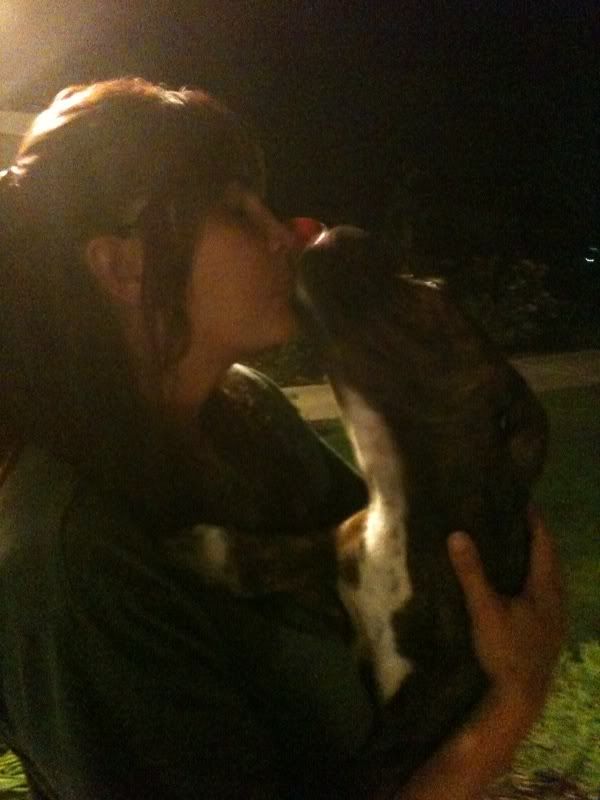 ---
These are her posting on another board; and I thought it would be worth a shot posting them on here as well.
POST #1
Quote:
---
My friend called me a couple hours ago, in a state of semi-panic. She was at the dog park (why she insists on taking her dogs there is beyond me and a point we have had a LOT of discusion about and not really germane to this story) She was befriended, while there, by a young (less than 4 months) pup who was collarless and limping badly on his back leg. Everyone else leaves the park, it is dark. The pup is all alone. Someone must have dumped him there, probably afraid his leg is broken (sure might be) and unable to afford the care.
He's adorably sweet (and in my garage) I will take him to my vet in the morning. Good thing my vet likes me, as I certainly can't afford his care either

Sweet pup. I'm calling him Parker (since he was left at the Park, lame I know but what can I say)
---
UPDATE POST#2
Quote:
---
His adult canines are JUST starting to erupt on the bottom (not on the top) I would guesstimate his age at around 16 weeks (4 months)
Bad news at the vets. He has a fracture (actually two) of the Femoral Head, which requires surgery to repair. My vets office should be nominated for Sainthood and one of the Vets has offered to perform the surgery on his own time, however it will still be a costly procedure. sigh.
---
UPDATE POST #3
Quote:
---
Parker has a long recovery process ahead after surgery, he won't be a very good 'play-mate' for any dogs for a while. He will need a LOT of physical therapy (swimming, walking on slopes (to force him to bear weight on the new joint) etc. He's a project
---
UPDATE POST #4
Quote:
---
OK guys, Parker is going to need to have his femoral head totally removed (surgically, of course) After that, his prognosis is excellent. He can be a happy, painfree pup.
I have created a chip in site since I don't have the $1000 needed to fix the poor little nipper laying around. Please, please, please consider chippping in even $5 to help the adorable little bugger.
http://parker.chipin.com/parker-abandoned-baby-pit-bull
---
All times are GMT -7. The time now is

05:02 PM

.
Powered by vBulletin® Version 3.6.7
Copyright ©2000 - 2013, Jelsoft Enterprises Ltd.