| | |
| --- | --- |
| scottandcharlie | 07-18-2010 12:31 PM |
---
Newbie here with a question

I am new to the splash dog competition. I have this yellow Lab who LOVES to run at full speed and dive into the water. However, I have a couple of questions.
1. Can I use a tennis ball instead of a dummy? (I did see the post about tennis balls but I am very confident Charlie would not have that problem retrieving a ball in the water as he has been doing this all his life, and a floating ball is not in motion)
2. How long is the runway? Charlie in currently using a patch of grass that is about 8' from the waters edge and he fly's about 15' before touchdown. I'm sure that he isn't even close to full speed yet. I think he can sail much, much farther with a longer runway.
Anyways, here are a couple shots of him. Thanks in advance for your answers.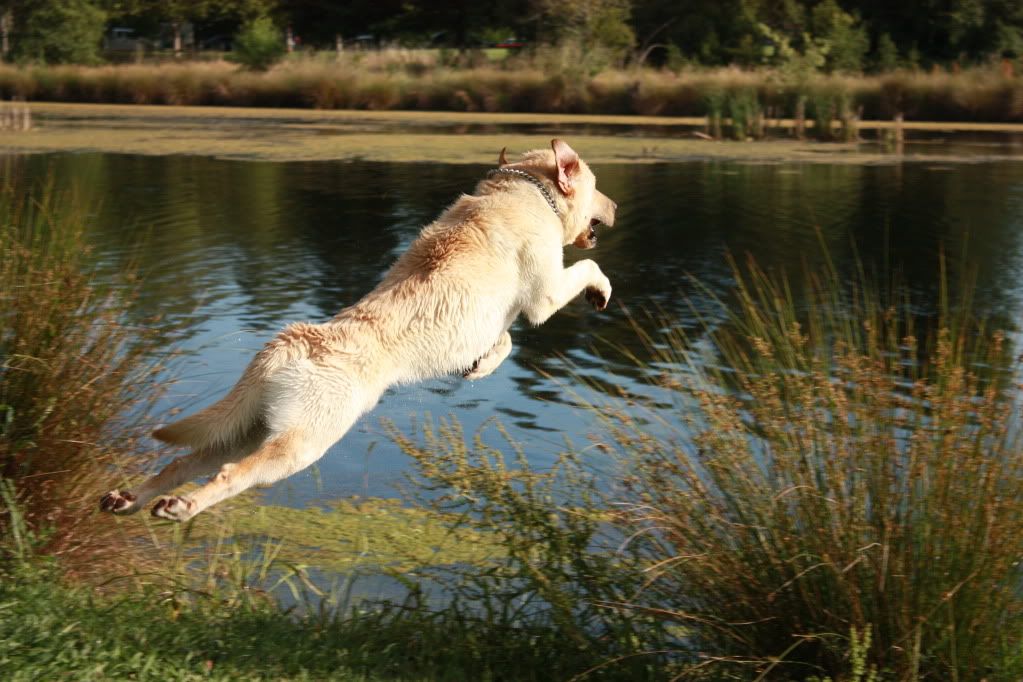 | | |
| --- | --- |
| Tinka's mom | 07-18-2010 07:52 PM |
---
Charlie looks great !! The dock and the pool are both 40' long. Your dog looks like he will be on the dock and jumping in no time. Good luck to the both of you..
| | |
| --- | --- |
| playswithfire | 07-19-2010 08:50 AM |
---
Looks great. You can use any type of toy you want (there even was an Aussie who jumped because it liked water without a toy being thrown). Most people use a wubba, dead fowl trainer/bumper or some sort of tennis ball item. Whatever your dog likes, you can use as long as it floats, the dog can retreive it, and isn't edible and has never been alive.
The dock and pool are both 40' long as Tinka's mom said, but you can use as much or as little of it as you want. There are also many techniques on jumping you dog, the chase and place and send are just two. It doesn't matter what you use, as long as you don't push your dog in (that doesn't seem like it will be a problem with your dog)
Hope that helped, and hope to see you in Santa Rosa (there will be lots of practice time for a newbie during the 2 weeks that Splash Dogs will be there).
| | |
| --- | --- |
| scottandcharlie | 07-19-2010 02:49 PM |
---
Thanks for the answers. Santa Rosa? I need to find out where/when. Yeah, for some stupid reason this dog of mine just loves the water. It seems he can swim farther than he can run. I think he's on Crack!
| | |
| --- | --- |
| playswithfire | 07-19-2010 10:00 PM |
---
Check the "upcoming events" tab, and it will tell you all you need to know about where the next few events will be, when htey are, and any special instructions about the venue (like parking, what to bring, tickets for entry into fair). It is really helpful. Also, bring water for you and dog, toy to throw, somthing to dry off with, crate for dog so he can relax between jumps, somthing to sit on (it really saves your back it you bring all this on a cart, just a word of advice). And it's not stupid, all our dogs are part dolphin. That's why we do it! They're obsessed. Mine jumped all weekend, and climbed into the shower with me this morning, because apparently he didn't get wet enough the past 3 days! What a dork!:)
All times are GMT -7. The time now is

04:02 PM

.
Powered by vBulletin® Version 3.6.7
Copyright ©2000 - 2013, Jelsoft Enterprises Ltd.