| | |
| --- | --- |
| tlhesq | 02-04-2008 03:40 PM |
---
4 Month old Labradoodle Looking for Home

This is one of two male sibling labradoodles, approximately 4 months in age, that we pulled from a Riverside County shelter. Their hair was matted with urine and poop and they were utterly disgusting. No one wanted to touch them so no one would adopt them and their lives were at risk. My group agreed to take one and Labradors and Friends agreed to take the other. I had them groomed and they are just as cute as can be. We have placed ours but L&Fs boy, Doodlebug is still looking for a home. He is a very smart, energetic, loving boy. Warning: labradoodles are typically a mix of labradors and STANDARD, not toy, poodles, so these boys will be very large; nearly 100 lbs for these two. If you are in the San Diego/Orange County/Riverside area and in the market, or know someone who is, for a very cute Labradoodle, please contact Aubree with Labradors and Friends,
http://www.labradorsandfriends.org/Default.asp
,
aubreespear@yahoo.com
. His adoption fee is $400, which includes his neuter, vaccinations (rabies, DHLPP, and bordetella) and microchip. A home visit is required.
His petfinder listing can be found here:
http://search.petfinder.com/petnote/...petid=10118791
And his tv appearance here:
http://search.petfinder.com/petnote/...petid=10118791
| | |
| --- | --- |
| MickeyD'sMom | 02-04-2008 04:13 PM |
---
For those of you that are not familiar with this breed, they are wonderful pets. We have a 4 year old labradoodle, named Peja. He is the sweetest boy (he won't dock dive, but I have seen others that do) Whoever adopts this guy will be very happy. I can't say enough about this breed and for those who have allergies, they don't shed. I could knit a sweater with what I sweep up from MickeyD. While Peja is very tall (like the Standard Poodle) he only weighs 65#'s.
| | |
| --- | --- |
| Stanley | 02-04-2008 05:43 PM |
---
Quote:
---
Originally Posted by MickeyD'sMom (Post 7405)
I could knit a sweater with what I sweep up from MickeyD.
---
Great idea, I'll take one large MickeyD Swept Hair Sweater. If I send some Stanley hair could you knit a dark brown stripe across the center?
| | |
| --- | --- |
| renegade | 02-04-2008 06:24 PM |
---
My mom has friends who make yarn out of different hair and then my mom helps them by knitting for them. She keeps threatening to steal hair from my dogs and make me socks. Dog Hair socks - think how those'd smell after a long day! I have to search her bags before she leaves to make sure she hasn't stolen any hair to make the yarn!
| | |
| --- | --- |
| MickeyD'sMom | 02-05-2008 07:04 AM |
---
Here is what a labradoodle looks like "all grown up". It's our gorgeous boy, Peja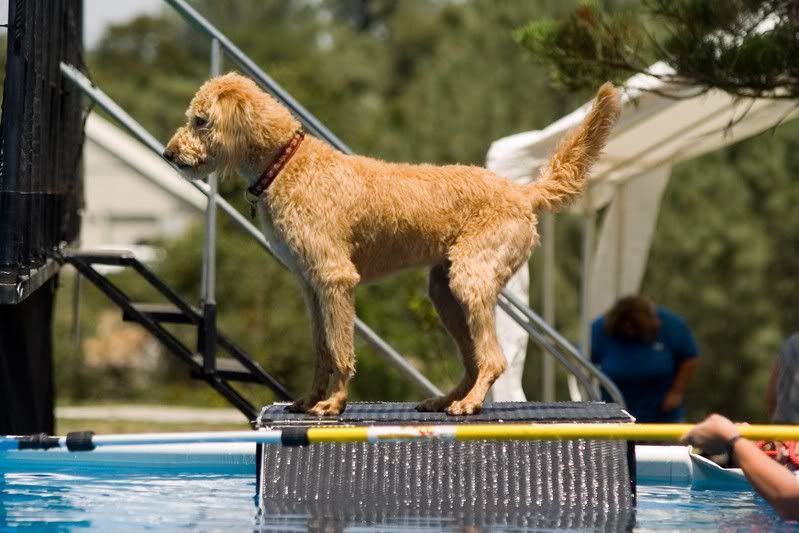 Okay just one more of his "Dock Diving" career (Or lack of)
All times are GMT -7. The time now is

07:26 AM

.
Powered by vBulletin® Version 3.6.7
Copyright ©2000 - 2013, Jelsoft Enterprises Ltd.