I am deeply saddened by the recent loss of Rachel and Jack Barry's 5 year old rescued CBR, Lando. I actually fostered Lando for a short period of time and was intimately involved in bringing him into Chessie rescue. For those of you who do not know about Lando, last week his owners were playing fetch with him at the dog park, as they did every day, when he swallowed the tennis ball. Despite rushing him to the vet's office, the tennis ball blocked his airway and Lando perished. Sadly, this is the second rescued Chessie I am aware of that has succumbed to a tennis ball. On April 30, 2006, another rescue Chessie I placed, Homer, also suffocated on a tennis ball at the dog park just as Lando did. And on Halloween 2007, one of my very, very dear fosters, Cesar also ingested a whole tennis ball that required immediate surgical intervention. Fortunately, Cesar survived. Here is a picture of the ball that was removed and of Cesar post-surgery.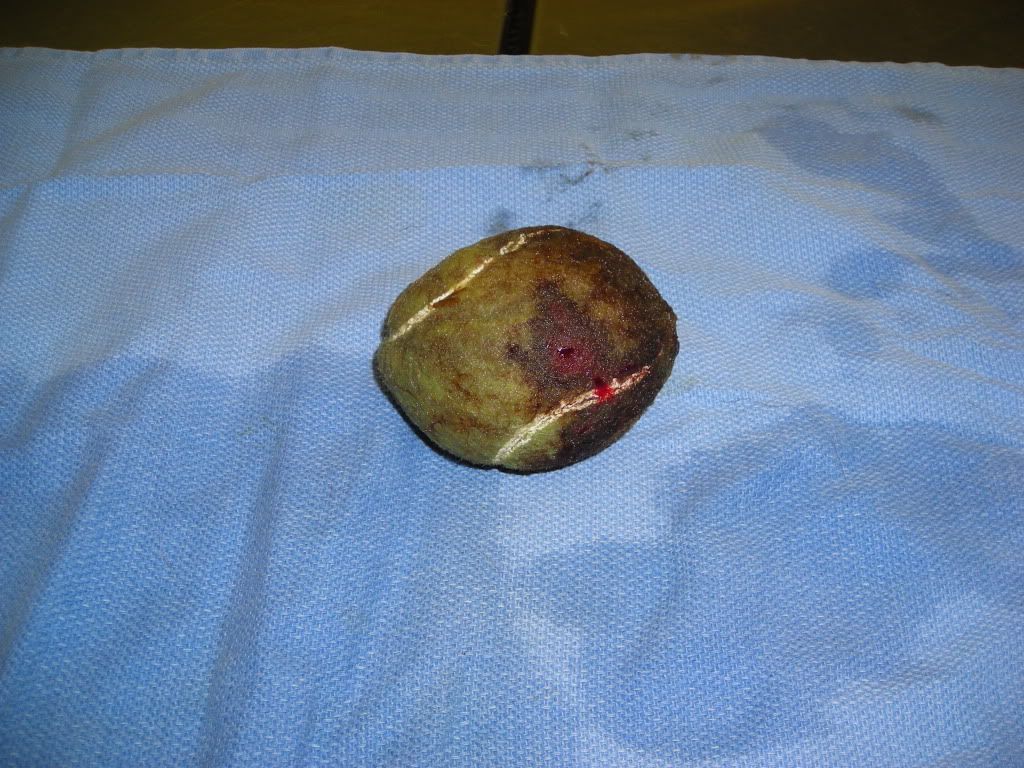 What makes this situation particularly disturbing is that it truly could have been my own dogs. We regularly play fetch with tennis balls and my dogs are head over heals when the "Chuck-it" comes out of the closet. But after hearing about the Barry's devastating loss, an immediate change was implemented in the Hughes-Nguyen household. No more tennis balls. We now only play fetch with balls large enough that I am confident they could not be ingested by my dogs.
While the Chessies are the only breed that I have personally known to have had this happen, it certainly can happen to any large dog that has the capability of encapsulating an entire tennis ball (or similar size ball) in its mouth. I inquire as to what extent the inherent protectiveness and competitiveness of the Chessie breed may make them more prone to ingesting the balls simply because when they are playing with or around other dogs, they take "keep away" very seriously. Irrespective of that possibility, there have been plenty of occasions where lab fosters of mine have retrieved the tennis ball with it positioned a little too far back in its mouth for my own comfort and I always wondered if that may cause them to accidentally breath the ball in simply because of the heavy breathing from the aerobic exercise.
This is just one of the many important decisions we have to make for the safety of our dogs. I hope that by bringing this very real and important safety concern to people's attention that they will at least do their homework and make an educated decision about what constitutes an appropriate toy for their own dogs. For me, that no longer includes tennis balls.
Here is a short blog on the issue:
http://blogs.inlandsocal.com/pets/20...erous-for.html